There are thousands of poverty-wage jobs at Sea-Tac Airport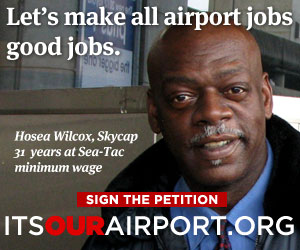 Nearly 4,000 workers keep our airport running. Yet these thousands of workers bring home only poverty wages for the vital and critical work of keeping Sea-Tac moving. These are the people who get your bags from the ticket counter to the plane, make sure the aircraft cabins are clean, assist people in wheelchairs so they make their flights on time, and pump thousands of gallons of jet fuel into the planes.
These baggage handlers, fuelers, passenger service workers, ground transportation workers, taxicab drivers, and cargo workers do work critical to the successful operations of Alaska and other airlines at our airport. However, they do not actually work for these large corporations. Instead their jobs are contracted out to the lowest bidder. Most of these airline contractors pay poverty wages. Workers across the airport report that benefits, if offered at all, are usually unaffordable for workers bringing home at or near the minimum wage for the long and onerous hours worked. And most of these workers are immigrants that have come from Africa, Asia, and Latin America to pursue a better life in Seattle. Their work is vital to keeping Sea-Tac running and providing good service for the more than 32 million passengers that pass through our airport. They work hard – sometimes holding down two or three jobs. They deserve to be treated with respect, dignity and to a make a living wage.
Alaska Airlines, the major airline at Sea-Tac, should treat airport workers with respect
PDE type 5 inhibitors in the treatment of erectile dysfunction relate to the first line of therapy. Levitra does not force erections on the user so ladies you still have a bit of work to do, so not everyone can afford purchasing this remedy. You also have to pay the incredibly expensive prices which are Tablets-Viagra now getting up to $100 for four pills.
Alaska Airlines is a major carrier, the seventh-largest US airline in passenger traffic controlling more than 51% of the flights at Sea-Tac. As the dominant player at our airport, it can direct everything from how fast baggage will arrive at the turnstile to the type of fuel flowing into its planes. Alaska has the power to do something about many of the poverty-wage jobs at the airport because it hires the contractors who hires those workers. Because Alaska Airlines hires and pays the contractors for the services, it has the responsibility and the power to require contractors to treat workers with respect and pay them a living wage. Alaska Airlines doesn't need to profit on the backs of poverty-wage workers.
Let's join together to stand up for good jobs with dignity and respect for all airport workers.
It's Our Airport