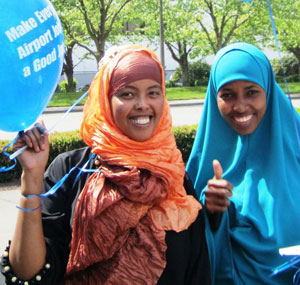 Airport workers, community demand that Alaska Airlines take responsibility for poverty wages
Alaska CEO agrees to meet with us
On May 15, Sea-Tac airport workers delivered a powerful message to Alaska Airlines shareholders. Together with faith leaders and community allies, a group of airport workers went into the company's shareholders meeting and told the CEO and Board of Directors what it's like to work for poverty-wages at Sea-Tac.
At the meeting, State Representative Dave Upthegrove challenged the new CEO, Brad Tilden, to meet with community leaders and workers in the next 60 days.
It won't be easy for workers and community members to convince Alaska to change their way of allowing their contractors to pay poverty wages. But getting a commitment to begin talks is an important first step.
The workers achieved this important step after months of activity, including a petition drive, a community rally on April 28, organizing in the workplace, and, most recently, confronting executives at the Alaska Airlines shareholders meeting.
"We went into the shareholders meeting and had our voices heard. We demanded change that Alaska Airlines has the power to enact, to make sure all airport jobs are good jobs."
—Alex Popescu, fueler, Sea-Tac