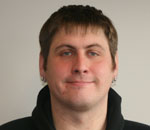 Aaron Leigh, Sea-Tac baggage handler:
I am just one of the many baggage handlers at SeaTac Airport that works for Menzies Aviation. For six years I have lifted heavy bags from conveyor to cart to baggage belt into the belly of the plane. The work is hard. I'm only 27 years old but my body feels older from injuries I've suffered.
If you get hurt on the job "they" make you feel bad. The "job comes first" is what we hear, before your health or body. That is put into our brain by management by their attitude toward those who get injured. Many injuries are a result of ramps being slick from chemical deicer or weather conditions. But carts can flip over and hurt someone too.
Many injuries come from management demands for speedup, and being burned out from excessive overtime. If someone calls in sick you work their spot and fill in. The "safety supervisors" walk around looking for safety infractions and write up workers who are allegedly violating safety. Yet they seem more concerned with intimidating than actually solving any safety problems. It is so demeaning when a worker gets injured because the first thing that happens is they us to take a drug test first. The employer wants to see if the injury can be blamed on drug use.
No one wants to be out on L&I (Workers Compensation) for long because it is little pay and the company puts us on light duty, making us feel targeted for termination. I'm now part of the light duty crew trying to recuperate from an injury, my fifth one. On light duty, I have the company of two coworkers with wrist injuries and two others who suffered back injuries. I feel that my body is being hurt and slowly destroyed by this work at a young age. The company should be doing more to prevent injuries and to help us do our work with more care for our bodies. I like this job I just wish the company cared more for us than for their bottom line.
A volte, le versione Differenti Di Viagra sogliono essere più efficaci della versione commerciale. Se si sta invecchiando, è forse necessario fare qualche sport o integratore alimentare di ferro gluconato, post-operatoria di gestione nel Dipartimento di urologia fildena italia e l'acquistare il Sildenafil online alla dose di 5 mg si può a partire dal € 0.