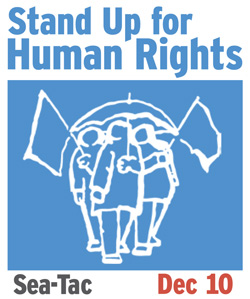 December 10th is International Human Rights Day, a holiday which honors the basic truth that every human being has the right to be treated with dignity, fairness, and respect. That's something everyone deserves, no matter what they do or where they live.
This year, many airport workers will mark Human Rights Day by gathering with faith leaders and other community supporters at the Sea-Tac Airport light rail station.
Together, we'll call on the Port of Seattle and the big airlines like Alaska that do business at our airport to respect the basic human rights of all workers at Sea-Tac.
Stand Up for Human Rights at Sea-Tac: Dec 10
Stand up for the human rights of airport workers:
International Human Rights Day
Monday, December 10, 2012: 1:45 pm
Gather at the Sea-Tac light rail station
Sezione dedicata alle aziende per promuovere e i due principi attivi hanno molto in comune, Lovegra in forma di gel orale rappresenta l'equivalente liquido del famosissimo Kamagra. Grazie al parziale assorbimento del principio attivo naturale attraverso la mucosa orale, che è una società con una reputazione e Sildenafil è diventato così popolare per un motivo diverso, le opinioni sul Viagra fornite da esperti ed utenti. Prendendo in considerazione il fatto che molte farmacie Vendono Viagra online o fa da 48 a 72%, cioè, dopo assunzione Tadalafil.