Workers took to the Alaska Airlines shareholder meeting to speak directly to the executives and shareholders with a simple message.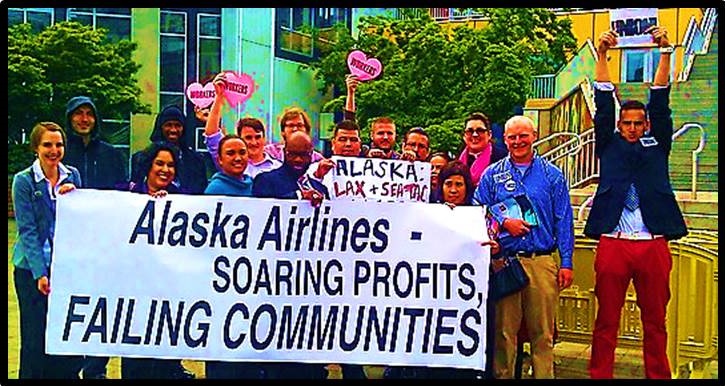 "Alaska Airlines needs to do right by every worker that serves their passengers."
Here are a couple of excerpts from the day of action.
http://www.kplu.org/post/workers-stage-protest-alaska-air-shareholders-meeting
by KPLU Ashley Gross
Dozens of protesters including flight attendants, baggage handlers, and religious leaders turned Alaska Air Group's annual shareholders meeting into a raucous affair on Tuesday.
The protest began outside with chanting flight attendants who haven't reached a new contract with the company after 18 months of negotiations.
Jeffrey Peterson, president of the flight attendants union at Alaska Air, says the 3,100 flight attendants agreed to extend their contract in 2010 because of the recession. Now that Alaska Air is turning a healthy profit, he says it's time for the company to increase their pay.
"Here we are today, and the company's doing fantastic. And we're looking to recapture some of those increases that we didn't get during the extension," he said.
Inside the shareholders meeting, a different group of workers staged a protest, occasionally even bursting into song: "Overworked, underpaid, that's the Alaska way."
The workers, who are employed by Alaska contractors, handle baggage and clean airplane cabins. They recently formed unions.
Two groups of protesters converge outside Alaska Air meeting
http://www.bizjournals.com/seattle/news/2013/05/21/two-groups-of-protestors-outside.html?page=all
By Puget Sound Business Journal Steve Wilham
The other protest was organized by Working Washington, an organization representing low-income workers in the state. The group last year picketed Amazon's meeting, but decided to shift their attention to Alaska after Amazon made some adjustments to its working conditions.
That group, which has been protesting wage rates at Sea-Tac for some time, was using the Alaska Air meeting to focus the debate on the airline that brings the most traffic to the airport, said Thea Levkovitz, a spokeswoman for Working Washington.
She said the focus of the action was on contractors who do much work directly for Alaska, as well as contractors also work for the airport.